Miss Grand International 2023: Final ticket prices are sky-high, Hoang Phuong loses at home?
The fact that ticket prices have been pushed up quite high makes many beauty fans and audiences hesitant to watch Le Hoang Phuong perform at the Miss Grand International 2023 finals taking place in the near future.
According to the previous announcement of the organizing committee, the Miss Grand International 2023 contest journey will take place around October this year, starting from the 3rd and the final night is expected on October 25. In addition to the semi-finals and finals, representatives of the country and territory will participate in additional competitions such as: Closed interview, Best In Swimsuit (swimsuit), National Costume (national costume performance). , fashion show Vietnam Beauty Fashion Show...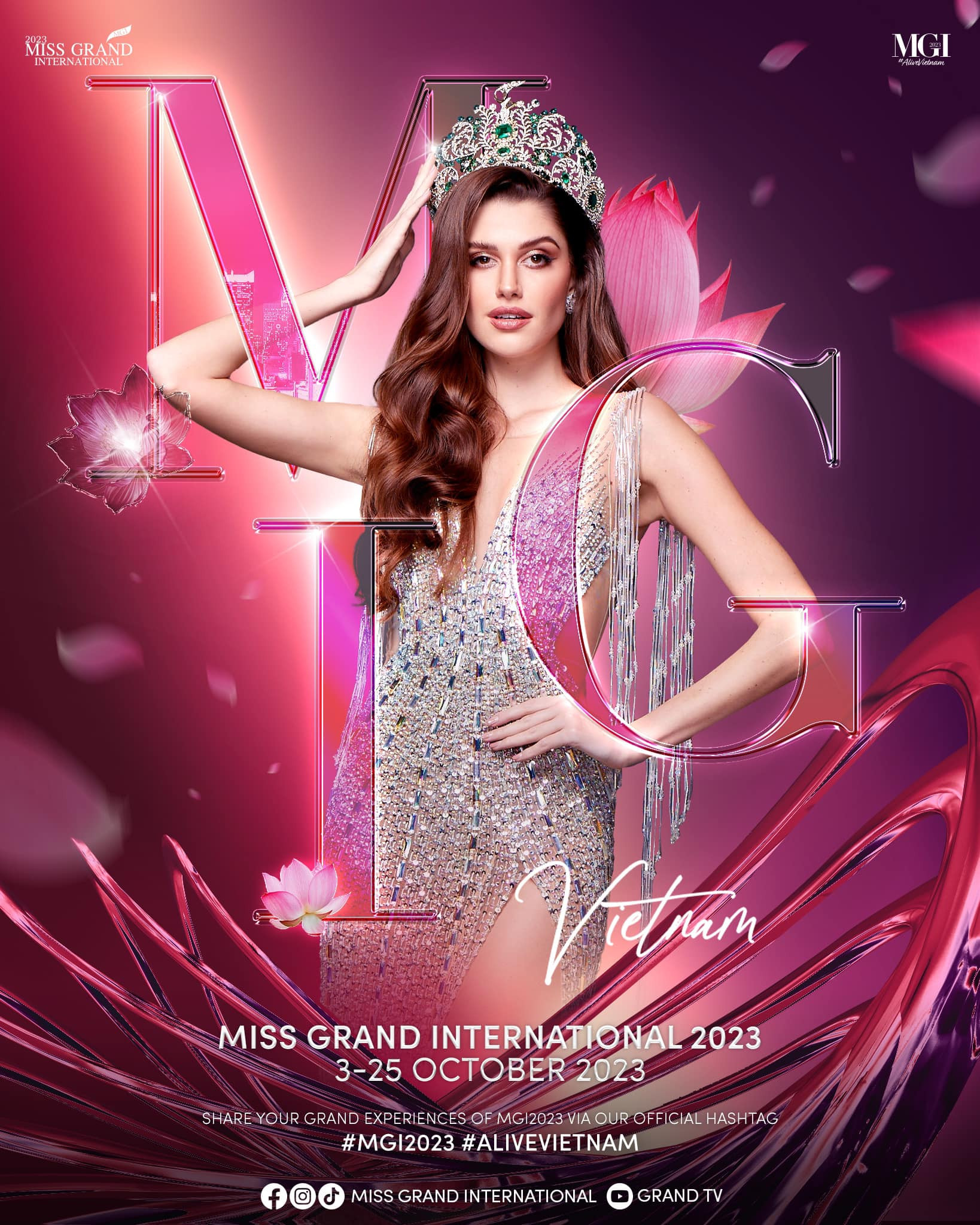 ADVERTISEMENT
In particular, the above schedule will stretch from North to South, passing through many provinces and cities such as Hanoi, Ha Long (Quang Ninh), Da Nang, Hoi An (Quang Nam), Hue (Thua Thien Hue) and Ho Chi Minh City. . HCM. This is considered a good opportunity for Vietnam to promote its image, country, and peaceful and hospitable people to friends around the world through images and video clips of contestants from other countries.
In addition, the organizers also revealed that Isabella Menin - the reigning Miss Grand International 2022 - will be present throughout the competition. After the final ended, the Top 10 Miss Grand International 2023 stayed in Vietnam for 10 days to participate in interesting activities together.
The fact that the S-shaped strip of land is hosting Miss Grand International 2023 makes many beauty fans excited. Because in addition to the home field advantage for Vietnamese representative - Le Hoang Phuong, favorite audiences can also easily come and directly witness important competition nights.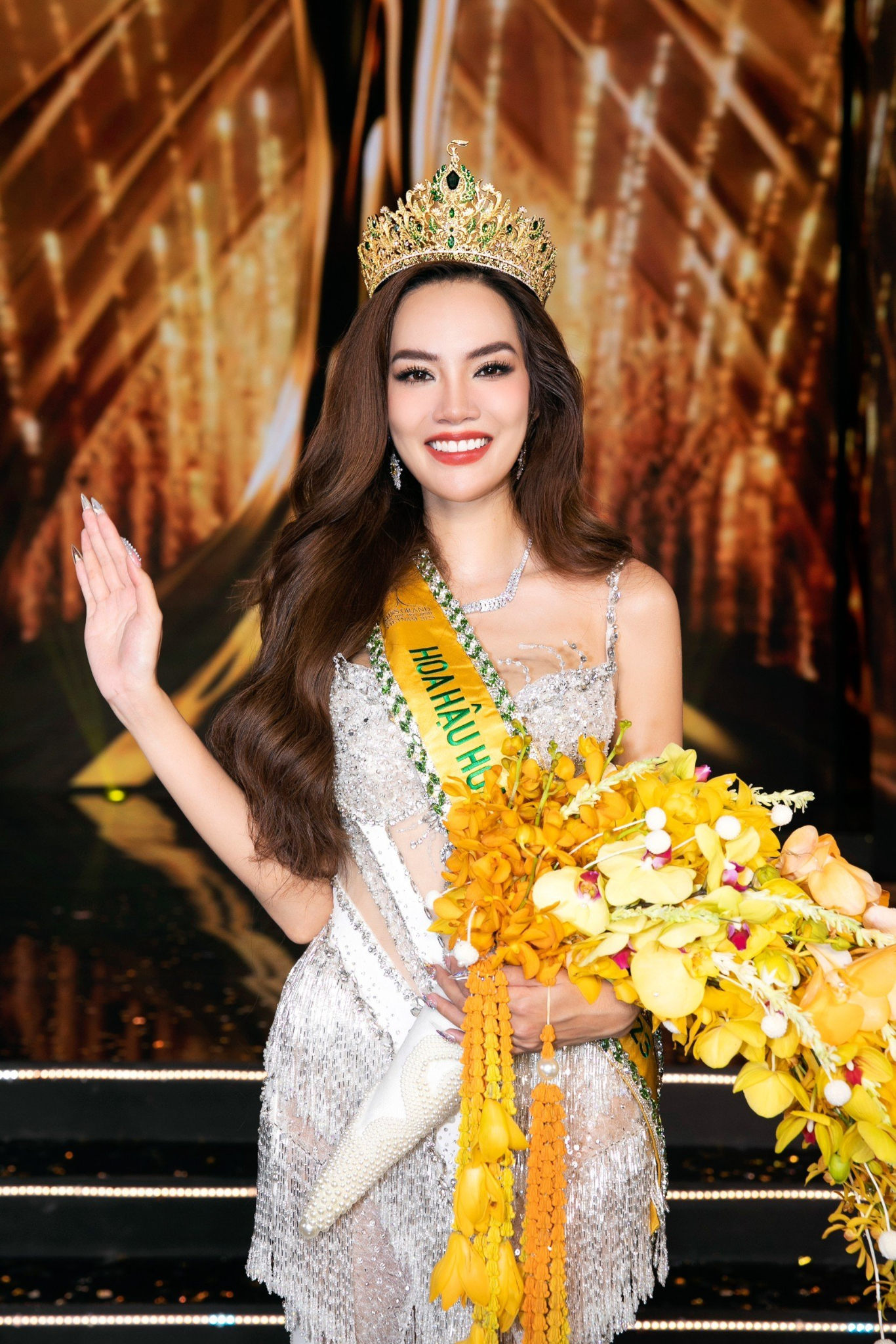 However, according to the reporter, the Miss Grand International 2023 final ticket price revealed not long ago is making the public disappointed. The reason is because the current ticket value has reached 10 million VND. The wave of controversy also started to break out from here. The vast majority believe that most beauty fans are students with little or no income, so spending that much money to buy tickets is quite difficult.
This unintentionally leads to Hoang Phuong's risk of lacking a strong cheering force in his journey to conquer the noble crown. It is even possible that a "black ocean" will form at the final because fans who don't like someone will be "silent" when that person performs, especially when fans from Thailand and Cambodia come to participate. attend winter.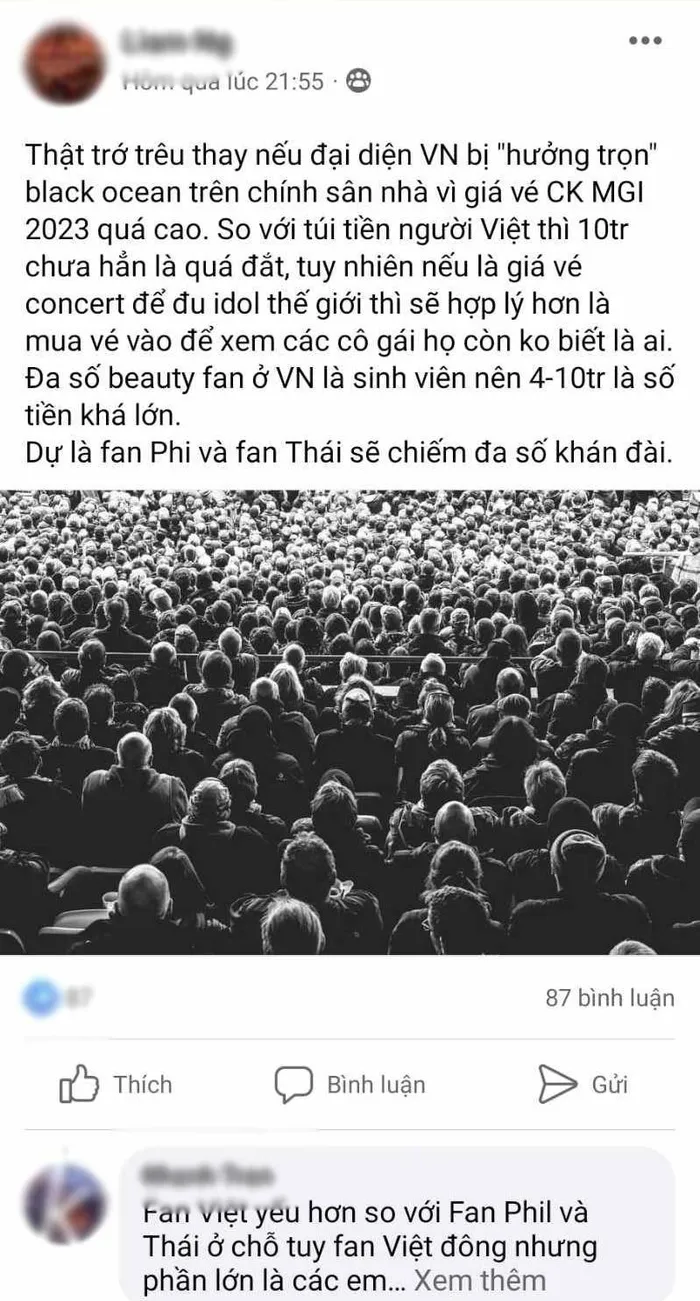 However, another part believes that it is natural that ticket prices are sold on the international market so they are high. Not to mention, the final night also had the appearance of many famous artists from our country, first of all Engfa Waraha - 1st runner-up Miss Grand International 2022 - appeared as a performing singer.
Notably, President of Miss Grand International - Mr. Nawat once announced that the queen of the Golden Temple will have a private music night at Phu Tho Gymnasium (HCMC) at the end of October, after Miss Grand International 2023 ends. Next, she will perform in the Philippines on November 26 and in Cambodia on December 2.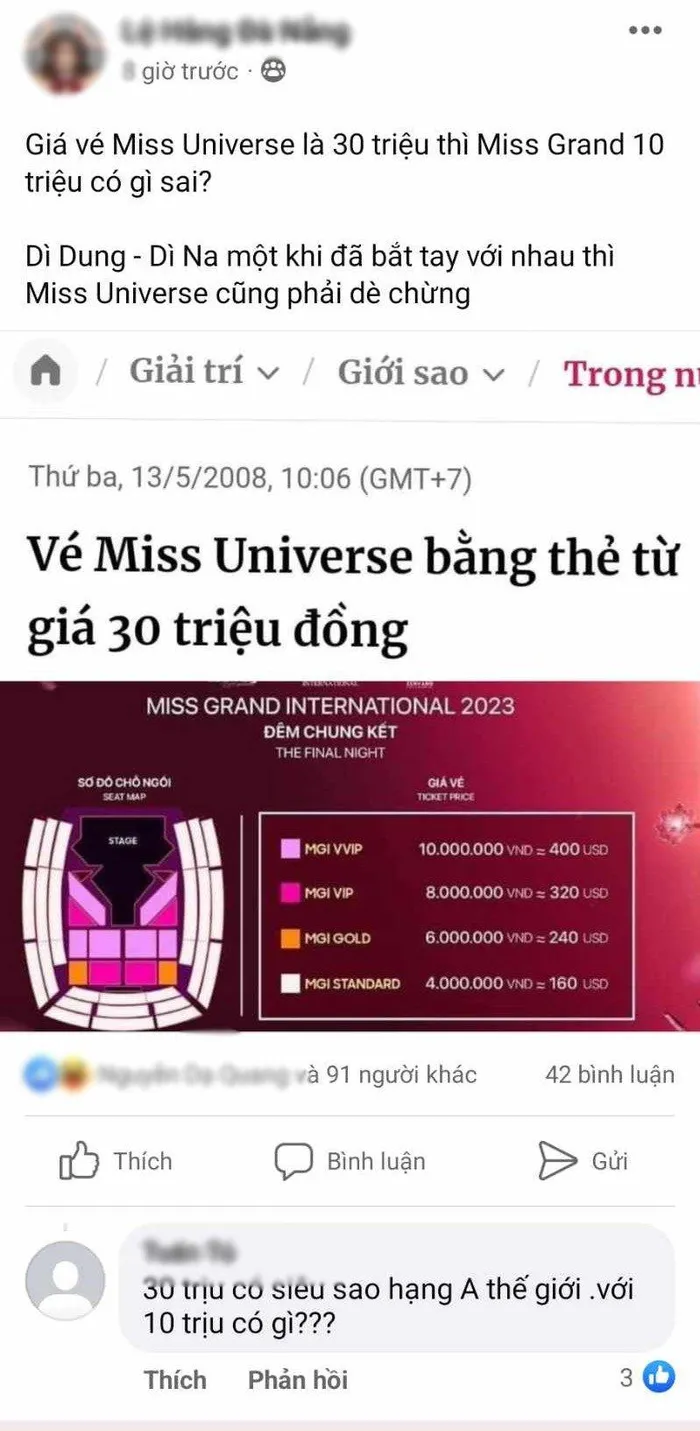 ADVERTISEMENT
Returning to the final ticket price of Miss Grand International 2023, currently the number of 10 million is still a difficult problem that has caused many endless debates at beauty forums. Hopefully Hoang Phuong's management company will find a solution and "please" people. However, no matter what, Vietnamese audiences will certainly still support her on her upcoming path, one way or another.
Undeniably, Miss Grand International is one of the major beauty competitions that attracts special attention from a large audience. Remember that in 2021, the representative of Vietnam - Nguyen Thuc Thuy Tien excellently won this contest, she was also the first Vietnamese contestant to achieve the highest score. This makes people in her hometown extremely proud of her.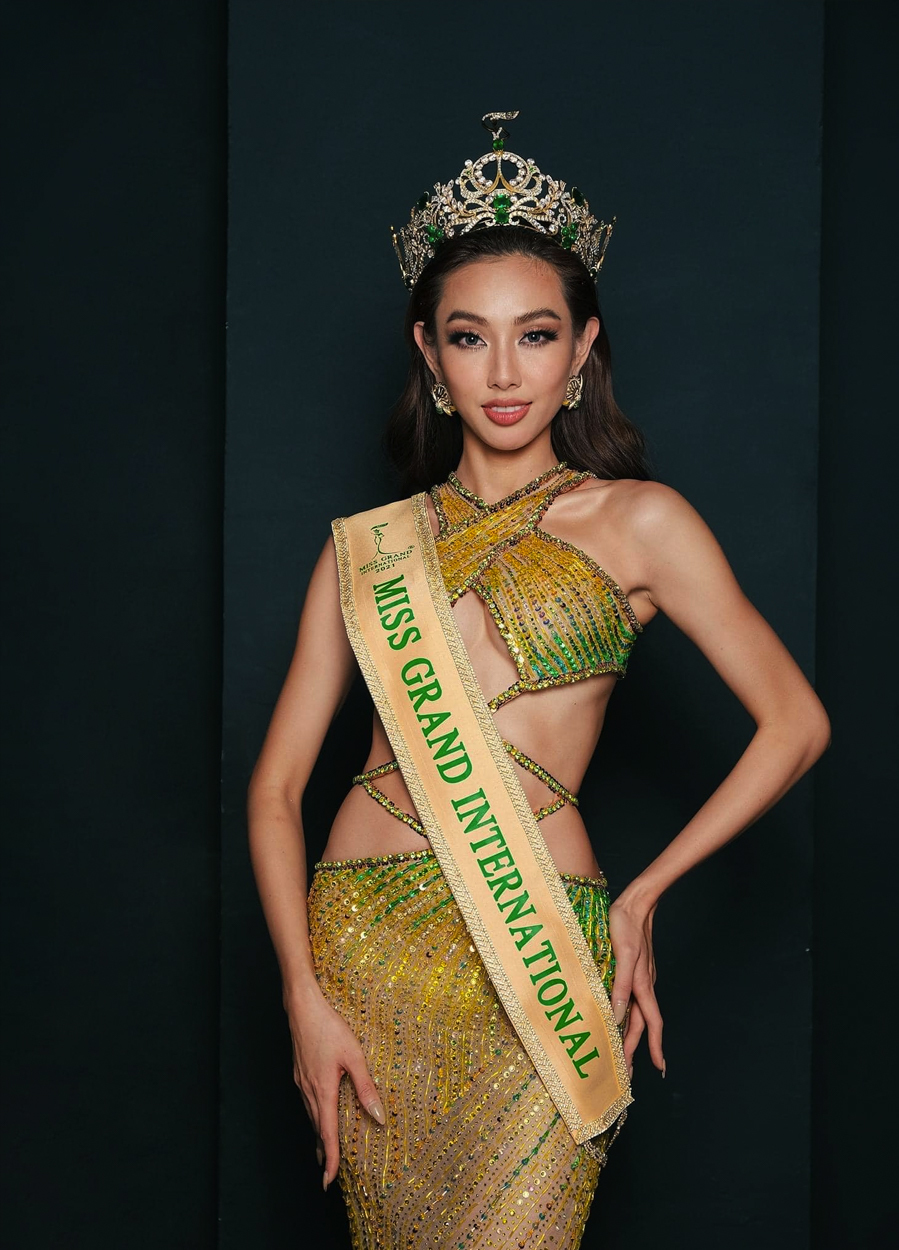 Last year, Miss Doan Thien An also fought hard and reached the Top 20 by winning the Country's power of the year award in the final, on the evening of October 25, 2022. Although she could not go further, she left many good impressions in the hearts of Vietnamese and international beauty fans.
For that reason, this year fans have even more expectations that Le Hoang Phuong will "make it big" at Miss Grand International 2023. With what the queen showed at the national competition, the audience has right to expect her to bring the next victory for Vietnam.
Thuy Tien: Parents divorced at the age of 4, working for only 60,000 VND and having a "terrible" academic record. Few people know that Thuy Tien had an unlucky childhood. Tonight (December 4), the final of Miss Grand International 2021 was officially held in Thailand. Thuy Tien performed excellently in all competitions and won the highest title with excellent presentation and fluent English...